Great! End to End Encryption in WhatsApp.
Great! End to End Encryption in WhatsApp.
Introduction :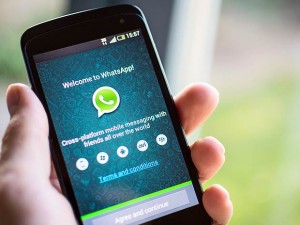 The founder of WhatsApp "Jan Koum" after completing with lots of research and a successful development on technology announced that the great app WhatsApp used by billions of people will now be encrypted and secure i.e it is improving day by day for securing the communications even more. Nothing more than WhatsApp is famous today. Earlier, it was just used as an messaging app but later with the growing trend, the team of designers and developers become more focused and many more amazing updates came in WhatsApp like people can share documents, audios, videos etc. Apart from all this it also involves getting notified about delivered and read messages which made this app simply great to use.
Another feature which it contains like sending voice messages to your loved ones or any of the friend leaving out of the country specially during the festivals. It also allows you block the contacts you think are abusing. It is totally upto you that who should see your profile, status, last seen etc. Moreover, media auto download can be changed by you simply changing the settings. This is not enough knowing about the WhatsApp nowadays as it is recovering day by day with special functionalities no other app contains. Thus it is announced some days before only that the amazing feature of encryption has been updated which will secure the life of billions of people using WhatsApp.
WhatsApp Encryption Policy: Know All About New Security Feature.
To promote safety and security, most of the people make the use of most important tool known as "Encryption".Hackers, unwanted friends and even regimes try to hack the details as this is only their job and to avoid this developers are more engaged in coming up with the features which will help large number of traffic to be secure and enjoy happy messaging, calls etc.
People set passwords to keep their chats safe from the third party, but now no need of setting passwords also as WhatsApp came introduced the outstanding encryption which will encrypt all your chats. No one can see inside that message. All your conversations are safe just like face to face conversations. Messages can only be read by the person you intend. Not even the WhatsApp company will interfere with this. End-to-end encryption ultimately represent the future of personal communication.
Everybody desire to keep their personal life safe and secure. Thus to protect from vulnerabilities, the encryption feature is released. To have this feature, you need to install the latest version of WhatsApp.
Benefits of Encryption : 
Personal sharing has been made easier. Couples can freely share their feelings without worrying about anything as it allows you to simply lock all your conversations you had.
Protected from cybercriminals, hackers so that information will be in only the right hands.
It came with special key which will help in unlocking the lock messages.  For added protection, every message you send has its own unique lock and key. All of this happens automatically: no need to turn on settings or set up special secret chats to secure your messages.
Not only the messaging, but also the calls are encrypted now. You can enjoy talking with anyone you want without any interference.
To Ensure whether messages and calls are encrypted or not, simply look for the indicator in contact info or group info.
Group chats will not get the encryption feature till even one of the group members is on an older version of WhatsApp.
 To know the encryption process working or not, the users can then view a QR code and a 60-digit number. You can also scan your QR code or compare the 60-digit number with the person you are chatting with.
But sad to know that there are still some of the mobile devices not supporting some of the features. But WhatsApp doesn't stop working for it, it is continuously emerging day by day with the new solutions providing support for WhatsApp Messenger on the following mobile platforms such as BlackBerry, Nokia, Android etc. Hence, at the end of 2016, all the devices will support making the customers more and more happy.
Thus, WhatsApp always tried putting great effort announcing new updates and making the people life easier, happy and satisfied. It always find the way to keep people engaged more with WhatsApp. And now, every single one of those people can talk freely and securely on WhatsApp.