Do Women Make Good Managers?
Do Women Make Good Managers?
If I am not wrong then everybody must be knowing one of the most famous line that " Behind every Successful or Great Men, there is a Women. This simple sentence is only enough to make you understand that how powerful and strong woman's would be in managing not only the household works but also they can handle the business issues without any confusions easily. Gone are the times when women used to sit home and taking care of domestic responsibilities, but with the modern generation today all has been changed. Women's are becoming more and more liberal, confident than men's too and entering into the corporate world.
Although I agree that there are more men managers than women and the reason is our society's wrong belief towards women. Society always treat women below the men which almost disturbs her due to which they take their step backwards and are not able to live their dreams completely. It is highly recommended that there should not be inequality and everybody should be provided opportunities to explore themselves and to show their talents.
Below are some of the Strengths of Women. Just have a look on that.
Ability to Perceive and understand the situations.
Strong dedication, loyalty and commitment to the organization.
Solicit input from others, respect for ideas.
Crisis management skills and gender equality in behavior.
Why Women Manager can be better than Men Manager.
It's a known fact that women are more organized than men. Women's can do multitasking easily and they can be a good managers because they think first about all the outcomes and risks before doing any work and also manages her home. Even in the financial domain they handle all types of responsibilities and are more focused than men's. They contains great personality with additional convincing powers. They always think about the profit and loss before starting any work so as to manage any task in good manner.
We are surrounded by some famous examples of leading ladies like Arundhati Bhattacharya the first chairperson of the STATE BANK OF INDIA, Chanda Kochhar the CEO of ICICI bank, Meira Kumar the first women speaker of Lok Sabha and the last but not the least Pratibhatai Patil the first women president of the independent INDIA. So I feel if a WOMEN CAN MANAGE A COUNTRY THAN WHY NOT A COMPANY AND BUSINESS?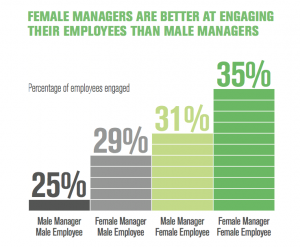 Below mentioned are some of the tips and advice which make the women more effective bosses than the men.
1. Better communicators
Better communication always leads to success. It is therefore considered as one of the major factor in maintaining relations not only with your clients, but also with friends, families and relatives. But when it comes to decide that who is the better communicators then the only name of Women's will appear at the top list as Women's are always a better listeners than men's. Research concluded that the Women's are more discussion oriented and men's just believe to take the actions without thinking anything about the affects and losses to their businesses. It is really an important skill for everyone so that your employees and customers both will be satisfied and happy if there will be better  communication in between boss and employees/customers.
2.Women collaborate
Women's always believe that collaboration with the team members not only build their positive attitude with members but also she will get the better acknowledgement from employees and team members as everybody will be equally treated and given a chance to voice their opinion and be a part of the conversation.
This passion of Women will surely help for the growth of her company as she believes in sharing and getting the innovative ideas that will be effective for everyone involved in the process.
3.Women focus on personal growth
Success in business and life requires continual improvement. It's just necessary to increase your life in every aspect. Women are relatively more flexible and, have a comfortable attitude towards learning. This makes the Women to find the ways to improve personal skills for more self aware which in turn helps her to become more strong emotional intelligence, a key trait of successful leaders.
4.Women motivate
Women's believe in themselves when no one else does. They are considered as natural cheerleaders only because they have passion to motivate themselves as well as to others with strong and powerful words of encouragement. This motivation will not only help her in life but also encourages you also to take out all your talents and setting up to leadership. Thus Women's are more focused towards building and prospering the organization.
5. More patience
A real Women always keep herself clean and organized. She behaves gracefully while facing any kind of serious issues. Great patience to take care of her family, always has a smile on her lips and kind word for everyone. Women has a patience to understand, the strength to support and a heart to care, that's only the beauty of lady. Women are willing to wait longer for a desired result. To achieve a specific goal, it is very important skill to have.
Conclusion : The powerful managerial skills exhibited by women and, the aptitude towards learning something new completely define them as better managers.